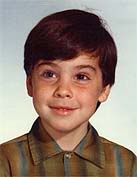 At age two, Neil Melville was well on his way to being a prodigious illustrator, with such artistic works as "Jelly Bean Chicken" and "Purple Bug Monster". He continued to illustrate his ideas for characters, machines, settings, weapons, and stories throughout his formative years. Not content with the same play experience over and over, Neil would create new rules for many of the popular board games available to the children in his neighborhood. With the advent of the personal computer, Neil soon began to write ASCII graphics and text games for the 4k Commodore Pet that could be found in his home. He spent hours honing the graph paper designs for video game levels, inspired by the latest arcade machines. His choice in classes in high school reflected his dedication to games, art and computers, and the eventual the gestalt of all three.
Neil began his higher education at Salt Lake Community College in the fall of 1989, where he studied Commercial Art, Theater, Creative Writing, Traditional Animation, and Physics. He received Awards of Merit and Honor in Life Drawing. Over the following years he continued his training and education where he could both broaden his knowledge and refine his skills. At Utah State University he studied the Fine Arts, Sculpture, Anatomy, Modern art, and Anthropology. Neil studied Computer Aided Drafting at ITT Technical institute, as well as architectural and mechanical design. And at Utah Career College, he studied Typography and Computer Graphics Applications.
In August of 1993, Neil established a partnership in order to publish his various independent art and game design projects. The first undertaking of this Lightning Studios was to produce the fantasy adventure board game Talengarde, which premiered in May of 1995, at Conduit, Salt Lake City's science fiction and fantasy media convention. Neil designed all the game mechanics, lead illustration of the sundry game components, wrote the game manual, and coordinated press production. Since that time, Neil, as Director and General Partner of Lightning Studios, has been creating original science fiction and fantasy illustrations for sale. He is also currently developing ideas for new tabletop and card games, comic books, and other media.
In February of 1994, based upon the strength of his traditional art skills, Neil began work at Sculptured Software, Inc., where he quickly mastered the computer applications being used to create the art for 16-bit video games in production at that time. He created storyboards and conceptual illustrations, 2D animations and backgrounds, and assembled levels from component tiles. He showed great aptitude for finding ways to push the graphical quality of games, while meeting the memory budgets and technical requirements of the hardware. In addition to doing pre-production work on 6 unpublished games, he contributed to the development of WWF Wrestling in Your House, Mortal Kombat III, SeaQuest DSV, and Parker Brother's Risk. In July of 1997, Neil also began freelance digital illustration. He worked with Axiom Design and Single Trac on the front-end interface and HUD for Critical Depth and Outwars. He also provided illustrations for the GURPS and In Nomine role-playing systems' resource books published by Steve Jackson Games.
Seeking to contribute more to the design and development of video games, Neil accepted a position at Beyond Games, Inc., in September of 1997. He began with conceptual illustration for Redline, and was responsible for modeling and texture mapping all of the characters, weapons and vehicles. He also aided in level design, story development, and game scripting with Beyond Games' proprietary scripting engine. In July of 1999, Neil worked with Cobalt Interactive, LLC. an extension of Beyond Games, providing freelance concept development and level design for Quaker's Cap'n Crunch's Crunchling Adventure. He then went on to lead production of the game level animations and background elements. During development of Motor Mayhem, Neil designed levels and created 3D real-time animations and special effects. In June of 2000, he stepped up to take on the duties of Lead Artist, coordinating the production of art and sound content. He created and maintained task lists, and documents for design, resource allocation and scheduling. He organized team production and skill sharing meetings. As Art Director for the Hot Wheels: Velocity X project, his responsibilities grew to include leading game design, corresponding with out-of -house contractors and establishing art creation technical guidelines.
In 2003, Neil assisted Saffire Corp. in production of special effects for the Van Helsing video game. After athoring many design documents and coordinating art production for the Pele's Soccer Challenge cell phone game, Neil joined Cryptic Studios in Los Gatos, California, in June of 2005. He integrated particle physics into the City of Heroes franchise, and is continually improving development of next generation proprietary particle editing systems.
Neil's commitment to providing a superior game play experience to the end user is echoed in his desire to create an efficient working environment. He wants to create games that engage the senses and challenge the imagination. He wants to empower a talented development team to achieve success through a unified vision, and by encouraging communication, innovation, and individual accountability. And he wants the aliens that took his spare brain to come back and give humanity another crack at joining the intergalactic bowling team.