Welcome to the Official Talengarde web page!
Celebrate the 10th Anniversary of Talengarde: Click HERE to get your very own copy! All the cool kids already have one! Don't be left out! It's compact box shape lets it slip under your bed, on to your bookshelf, or inside a very large pocket. It's compatible with all types of tables and is 100% fat free. Fun for the whole family! Supplies are limited!!! PLAY NOW!!!!!
All this for just US$19.95 (+Shipping&Handling)
(S&H cost varies depending on your location - send the desired address with your inquiries for actual price)
We accept PAYPAL - send payment to tmelvil@aol.com
What is Talengarde?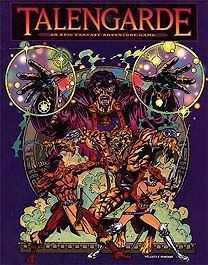 Talengarde is a game. It combines elements of a board game, a card game, and a role-playing game. Players take turns moving pieces that represent their characters across spaces on a board. The characters and their enemies, equipment, and special information are represented by cards that are drawn from randomized piles during the game. The players may make choices based on their particular character's goals and abilities. The characters fight enemies using a system of dice rolls with results modified by the character abilities and equipment.
Read this game review of Talengarde published in Masters of Role Playing magazine, issue #5
Maybe you already have Talengarde, but you still have questions? Read the Official Talengarde FAQ page.

Where can I get a copy of Talengarde?
That is a very good question. Thank you for asking. Lightning Studios, the publisher of Talengarde, directly sold some copies to a few retailers in Utah and in Palo Alto, CA several years ago. It is unlikely that you will still find these. Lightning Studios was also working with Berkeley Top Line Game Distributors. When Berkeley ceased to exist in April of 2001, its entire inventory and most of its other assets and operations were assumed by Alliance Distributors.
Fortunately, we still have some games in stock, and you can obtain a copy by contacting Lightning Studios directly. Order yours today!!!